Service Plans
RESIDENTIAL
At DEADicated Pest Eliminators, we keep the focus on making your
home and property pest free. Our 5-Point Elimination Plan uses an
Integrated Pest Management (IPM) system, a comprehensive, common
sense plan to keeping your home free of pests for years to come.

Because most pest problems originate outside your home, DEADicated
believes in a strong perimeter defense to keep pests from ever entering
your home in the first place. In many cases, that is all we need to treat.

COMMERCIAL
DEADicated Pest Eliminators can service all of your general pest
control needs for your commercial property. Whether you own or operate
a restaurant, apartment building, manufacturing plant, warehouse, or any
other commercial property, we can customize a plan that will solve your
pest problem and meet your budget.

Our certified and highly trained technicians will evaluate your needs and
offer you the most comprehensive pest control plan that fits.

Residential and Commercial Service Plans Available
One Time - (Service your immediate problem with a 30-Day Guarantee)
Initial - (Same as One Time Service only less expensive with any service agreement)
Monthly - (Best Value Plan, lowest cost, Continuous Guarantee)
Every Other Month - (Maintenance Plan for lighter pest control needs, Continuous Guarantee)
Annual - (Conduct our 5-Point Elimination Service)
We Are Family Owned and Operated!


Same Day Service. No Job Too Small.


Licensed. Bonded. Insured.


Service Is Top Priority
We Gladly Accept All Major Credit
Cards, Checks and Cash.



Rodent Eradication
If larger critters like rats, mice,
ground squirrels, or opossums find
there way into your home, walls, or
attic. . . . invading your space . . . .
you won't need to move out, we'll
move them out! We'll identify the
problem, find and close up the entry
points into your home and set and
bait traps. In no time flat, your
problem becomes history, complete
with our 2-Year Warranty!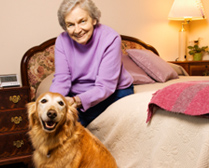 "What I like best about DEADicated
Pest Control is that I can count on
the same technician handling my
service each month. My dog even
knows John and I never have to worry
about a stranger entering my
property."
Hazel Dozier, Sherman Oaks, CA